Press Kit & Promo Photo
Promo Zip File (with image and bio): BigMonti-Promo-2018
---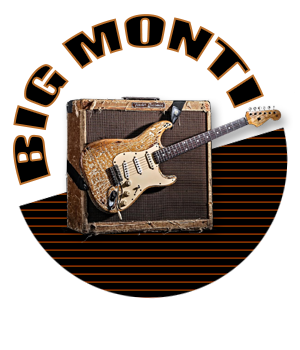 Promo Bio
His name is Monti Amundson, but most people call him Big Monti. Not only for the man's physical appearance, but also because of his enormous talent and sheer presence. When Big Monti takes the stage, it's clear that there's more going on than the usual extended guitar solos. The man plays and sings larger than life.
Big Monti is a natural-born blues rocker with a style all his own. Recognized for his live shows and tightly wound writing, Amundson has shared the stage with numerous legendary acts, including Albert King, John Lee Hooker, Luther Alison, Johnny Winter, The Fabulous Thunderbirds, The Paladins, Little Charlie & The Nightcats, Gatemouth Brown, Stray Cats and Joan Jett.
Hailing from Portland, Oregon, Big Monti spent most of the 90's living in Amsterdam, where he built a sizable European fan base. In the fall of 2016, after the better part of three decades shuttling between Portland and Amsterdam, with several million miles of roadwork and ten solo albums, Big Monti has moved his base of operation to Nashville, Tennessee.
Fast forward to the present and Big Monti's journey seems as natural a progression as a 12-bar blues. Blues is what Big Monti does. It comes straight from the heart and is as real as it gets.
[ttfmp_widget_area page_id="1378″ widget_area_id="ttfmp-1378-text-item_31″]